The cornea makes up about two-thirds of the eye's total power to focus the light precisely on the retina (receiving screen) which is located in the back of the eye. By slight modifications in the shape of the cornea, clear functional vision may be restored for a period of time.
Recently, several surgical procedures have been developed to attempt to accomplish the same purpose (i.e., changing the curvature of the cornea). Since the cornea is soft, it can continue to change shape as time goes by. The individual prescription may continue to vary leading to increased dependence upon eyewear within months to just a few years after the surgical procedure. Some surgical procedures produce scars causing surface irregularities on the cornea, resulting in permanent blurring that even glasses or contacts cannot eliminate.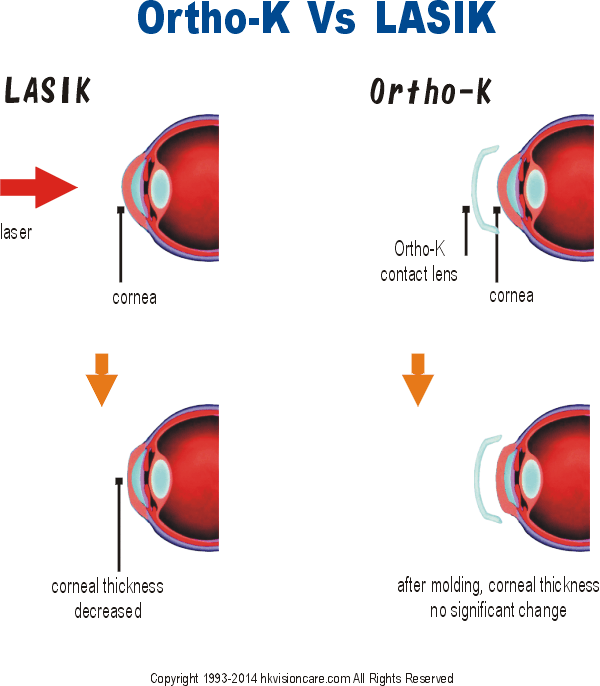 Conversely, Ortho-K is accomplished with a contact lens device that may be referred to as a corneal mold.
The mold is similar to a contact lens in its appearance and the way it feels while being worn. The mold is working as it is worn, whether you are sleeping or awake. The procedure takes just from hours (in mild cases) to a few weeks (in very difficult cases) to reach good functional vision. At that point, the mold-wearing time is gradually reduced until a minimal-wear time is established that maintains the corneal shape and good functional vision. This assures continued clarity without the gradual blurring that may accompany surgery. Therefore, the cornea can easily be fine-tuned by minor modifications to the retainer mold.